Get back to exercising your inner child with the 30-day Primal Play Program fun exercise challenge of "play movement". Reclaim the joy of movement! Read on….
I Want to Play
I was recently talking to a friend about how much I miss the fun of play movement. You know, like when we were kids: balancing on things, jumping on and off stuff, plus hanging and swinging from monkey bars. "Primal Play". I think it started when visiting my nephews and being reminded of how much I loved being in the playground, and how easy it was to do all the movements… and how not easy they are now!
A few days later I noticed a comment on one of our recipes by someone from www.PrimalPlay.com. Darryl Edwards, the inventor of Primal Play!
No. Way.
I found an interview where he was speaking about the "enjoyment of movement and passion we had in playing and moving as children"! He's totally in my head! He went on to say, "We thrive on a broad repertoire of activity and intensity – plus an element of fun! I believe our training should reflect this".
When I told Holley what I was looking at and she said that, "Yeah, it's been all over the place recently". He's been at PaleoFx and number of times, and everyone's been getting on board. Immediately, I rushed to the site to see if it was what it sounded like.
So? What did I find?
This video will give you an idea of how this is different than your current workouts: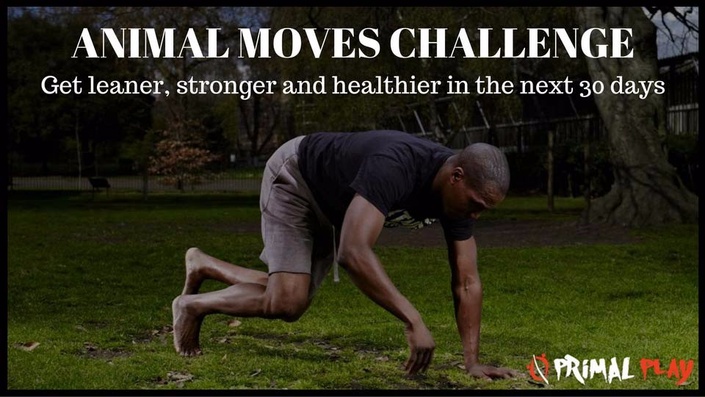 About the Primal Play Program:
You can check out the overview here. Primal Play is "fitness for those who hate to exercise". It is "moving like an animal, training like a human". Here are some of the highlights:
Start anytime – It's ready to go when you are, and you can start and stop if needed. Plus you get lifetime access to all the content – even anything added in the future!
15-30 minutes a day! – That's all you need!

No gym membership needed

! – Do it anywhere: at home, outdoors, a local park, or even at a gym.
Appropriate for ALL FITNESS LEVELS – from the previously sedentary to those looking for more challenging movements, the Animal Moves Challenge is designed for everyone.
Evidence-based research on why these movement patterns are beneficial for mind and body. Darryl s a Certified Personal Trainer, Nutritionist, international speaker, author of Paleo Fitness, and a man who can deadlift 500 pounds!
Also, when I reached out to Darryl to ask him about the program, specifically if it's something that I could do with my low back injury, he said:
"Anyone can participate in the program. I would advise the beginner pathway and you can ask specific questions (in relation to suitable substitutes) of me personally in the Facebook group which is part of the 30-day program (full version) which I suggest is a good idea if you're concerned about any of the movement patterns.
I have a history of chronic low-back pain so I know exactly what to focus on and how to deal with the condition – I've now been free of low back pain for about a decade."

Benefits of Primal Play
Strengthens your heart and lungs
Boosts your energy levels
Can be done anywhere, anytime
IT'S FUN AS WELL AS CHALLENGING
---
As part of The Primal Desire family, you get a 15% discount by using THIS LINK when you sign up!
---
What else do you get when you sign up?
Access to the private Facebook Support Group – You can connect with others who are also doing the program, ask questions, get feedback, get support from the community, and if you need to get a hold of Darryl with questions – this is a good way to do that.
20 Page eBook on The Importance of Play – Why should you spend more time playing? This guide will tell you…
Downloadable PDF of Poses – These help to improve posture, aid in relaxation, and support joint function.
Online Timer for Workouts – Doing high-intensity drills that require interval timings can be tricky to set-up. Timers are included with the course as video and audio cues so you can focus on moving rather than programming your timer.
Health & Fitness Assessments – Do-It-Yourself assessments that allow you to measure some health and body composition markers that you can use to track your progress.
---
"Awaken your mind and activate your inner child." – Primal Play
---
Reclaim the Joy of Movement
I really enjoy doing challenges: dietary, fitness, lifestyle, meditation, etc. I think they are a great way to see how you respond to different lifestyle habits. Although, I prefer 30-day challenges, with the option to extend afterward depending on how you respond.
Holley and I finished doing the Whole Life Challenge with a few friends (Holley wrote a bit about it here) in which we both lost a bunch of body fat and improved our overall health in 8 weeks. The Primal Play program is a 30-day program – PERFECT! – and you get access to the materials for life, so you can continue to use the workouts and future materials moving forward.
---
We're going to do the Primal Play program (and the Whole Life Challenge again) in September and would love, love, love if you joined us! You can do it anytime, but I find that doing challenges with friends is way more fun, you have someone to keep you accountable, and improving health with others is a great way to connect! So it would be great if you did it at the same time!
---
Darryl is so confident that this program is right for you that he's guaranteed satisfaction, offering all your money back 7 days after you've purchased it if you don't like it.
What else do you need to know? Try something different for 30 days that can be fun and maybe get you results that you haven't been able to achieve with your current plan. Let's do this!
Want to Play Now?
Primal Play encourages connection and fun (which is one of the reasons I'd love for you to join me in September, and you should have a friend or spouse join at the same time), and Darryl says that "the most interesting form of workout equipment is another human being".
Am I the only one who thought that might have sounded dirty?
But seriously, I want to give you an idea of some of the games that get you moving with Primal Play. These are a few that I found on the internet, but I know there are more included in the program.
1. Full-Contact Tug-O-War
– Stand and face your opponent (a friend, workout partner, or a stable inanimate object, such as a flagpole or pillar).
– Take a high lunge position and lock arms, hand to forearm. (Alternatively, grasp the pole.)
– Brace yourself — tight belly, tight butt — and gently begin to pull one another's arms. Allow yourself to pull and be pulled in a dynamic game of tug-o-war.
(The only video I could find of this was a version where competitors stood on one foot while playing.)
2. Close-Contact Tag
– Stand and face your opponent, as above.
– Assume a high lunge position and brace yourself, as above as well.
– Attempt to "tag" your opponent, all the while evading being tagged. You're not chasing one another, you're aiming for the ankles, shoulders, and other body parts while staying close to each other.
3. Sticky Shoulders
– I couldn't find written rules for this, but as you can see from the video, you want to maintain contact with your partner's shoulder while they attempt to evade your touch using movement only (not by pushing the other person away or making any other contact).
– This is referred to as a "multi-planar, cross-pattern cooperation" a.k.a. fun!
---
You know what? I like you, so how 'bout I give you a 20% discount instead? Use THIS LINK and join today!
---
Fun & Holistic Wellness
We all want to be healthy, and we all have different interpretations as what a healthy lifestyle means. But we can all agree that exercise, sleep, and healthy nutrition are important aspects to a healthy lifestyle. We've written a bit about what the paleo diet is and why we think it's a healthy diet, based on the information that we have – and our own personal experiences with it. Darryl has written an article about other aspects included in a healthy lifestyle, The 12 Pillars of Health.
That's why we do this. That's why Holley and I share the recipes that we create with you. Well, that and because we understand the importance of enjoying food no matter what your diet is. It's similar to Darryl's motivation to include fun in Primal Play.
What are you waiting for? Come join us! Sign up here!
2018.08.21 Update: I met Darryl Edwards last month. He was kind enough to grant me an interview where he shared some of his personal story and his journey that brought him from an overweight couch potato with health issues to the athletic ancestral health advocate.